State of the Crafts: Spinning and Weaving
1) The table loom
purchased super duper cheap from someone on craigslist, it sits unused in the living room. First, I bought some great cotton from
Halcyon Yarn
. Then I figured out how to use the legs of my kitchen chairs as a makeshift warping board. i warped the loom. Its is very nearly ready to go, except this one minor little problem. the back beam is missing a screw/metal rod that holds it in place. i can't wind the warp on without fixing that first. I'm sure i am smart enough to either describe the needed part to a helpful person at Home Depot, or figure something out myself. The colors of the warp are springy/eastery colors, so i should get working on that soon. i would except that i'm too obsessed with...
2) Spinning
totally addicted to this at the moment. Bought myself a used Ashford Traditional around christmas time, and have been getting much better at it. I want to spin mucho yarn! and then sell it at craft shows! but i need the fiber first. buying fiber is much cheaper than buying yarn but it still adds up. Especially if its dyed pretty colors by someone else. There are so many
gorgeous
handpainted
fibers
out there! Now i'm experimenting in buying it white and dying it myself. The most cost effective way would be to buy a
raw fleece
straight off the sheep, but cleaning that requires WAY more work and spare time than i've got. processed roving is more expensive, but worth it. Until now i've purchased all fibers from ebay or
The Fiber Loft
in harvard MA. (i guess i should confess that i am waiting for two of
gorgeous batts
from Grafton Fibers in the mail right now. bad!)
3) dyeing
This week's experiment is dying this: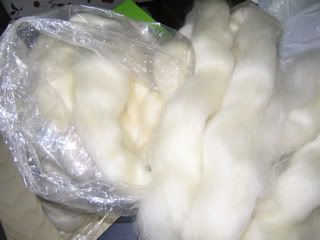 1 lb of new zealand Romney wool roving (bought off ebay). i'm dissapointed that its not as soft as i was expecting, but i can't justify buying a bunch of fabulous merino and then run the risk of ruining it in the dye bath. So far i've had success with plain old food coloring and cake decorating colors. Professional acid dyes are not terribly expensive, nor that hard to work with, but they do require separate utensils, pots, etc which make it a bigger financial investment. for now i eagerly await the arrival of easter egg dyes to the stores!