State of the Crafts: Stained Glass
I wasn't going to discuss this one next, but something came up this weekend to remind me. I went to the house of a friend i haven't seen in a while. Hanging in her kitchen window was this cutie that i made as a housewarming present for them a few years ago.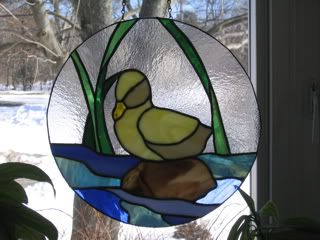 I have a terrible habit of giving away these projects before taking pictures of them. Then i forget all about 'em until i see them again! some of my other stained glass projects can be seen in
here
.
I started by taking a stained glass
hobby class in Northampton
about 3.5 years ago. I continued taking classes
here
after moving to worcester. (check out the awful picture of me on her website!) i really enjoy the entire process: choosing a pattern, picking just the right colors of glass, cutting - grinding - fitting it all together, and soldering (my favorite part!). The whole thing is very relaxing for me. Its a puzzle, its technical, and yet its creative. I get to solder AND play with color and texture. whee! But it takes up space. Not only the actual process, but storage as well. As you go, you start to accumulate scraps of glass that are too big to throw away and need to be kept for future projects. There is the cutting space, design board, and grinder. In my last apartment the back porch became my stained glass 'studio', but i don't have that option in the new place. so its all in the basement right now. probably cracking because its so cold. I would love to be working on it again, but just can't right now.
In fiber news, i very nearly finished this while attending a stupid-bowl party. (love the company, love the food, hate the sport!)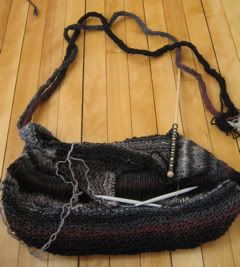 After a trip or three through the washing machine, it will become a
Chicago Blue Line
bag designed by fellow knitting scientist,
Theresa
.