phooey
last night i attempted to dye some more of my romney roving, this time using Kool-aid. Somehow, the colors managed to come out exactly like the last one i did, even though this time was supposed to be blue and green. where'd the purple come from? where'd the green go? bah humbug. on the upside, it'll match the little teeny skein that i got from the first attempt.
here's the roving hanging in the tub with some other skeins i've been working on. finally gave them a little bath to set the twist.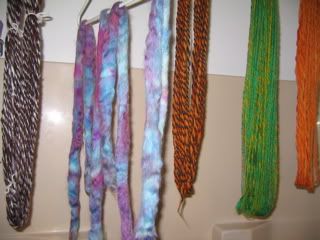 (l-r) Brown/silver/purple: one ply brown wool, one ply silver/purple angora; last nights dyeing; brown/orange wool; green and yellow from the
Grafton Fibers
batt that i bought (i believe it was color 113. how does she get such gorgeous colors?); more of the orange that i used for D's scarf.