a week of progress on Ribby Cardi: Finished back panel, just starting the neck shaping of left front now.
i won't be at SnB tonight, but maybe Kat can take digital pics of the ladies progress and send it to me....?
while i got little knitting and no spinning done this weekend, I did spend some time doing knitting related crafting. First, i went to the home despot and bought hardwood (oak) dowels. With these, i made knitting needles! the smallest dowel they had comes out to about a size 8 (although i couldn't find my needle-check to be sure. just a guess.) a trip to the craft store found dowels in smaller diameters as well. using a pencil sharpener and sand paper, i made two sets of 8" needles. My goal was to put beads on the ends of them, but couldn't figure out how to get that working. I don't want to glue the beads to the end of the wood, but i can't get the headpin into the wood either. (tiny drill bit?) While i had my bead stuff out, i made a few sets of pretty little stitch markers.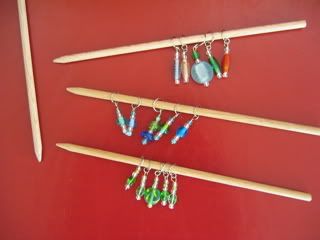 I will need to make a trip to my friend's shop,
Lush Beads
of Lowell MA, soon to get nicer beads and high quality jewelry findings. maybe she will have some suggestions for attaching beads to needles.
And because i got paid on friday, i ordered more plain roving and some jaquard dyes from
Pacific Wool and Fiber
. very excited about dyeing and spinning possibilities.