Fun weekend acquisitions
D and I drove up to Portland, Maine to visit the New England Textile Artists (NETA) "Spa, Spin, and Knit Weekend". This is the 3rd year that a group of fiber enthusiasts from the NETA message board gather at (well take over really) a hotel in maine and have a relaxing, playful, fun weekend together. They have activities, fashion shows, vendors, and general camaraderie. I couldn't go for the whole weekend, but i would love to go next year. Every possible public nook in the hotel (lobby, bar, conference rooms, etc) had people sitting there with their spinning wheels, drop spindles, knitting, whatever! They were all so friendly. The spirit was wonderful.
I didn't have too much time to hang out. In the vendor room i saw so many beautiful fleeces, fibers, yarns, books, kits. I bought a batt from
Indigo Moon Farm
. The colored batts aren't on her website, but i've heard so many good things about them from other spinning blogs that i had to get one. I also got to meet in person many people that i've emailed on the NETA yahoo group. In particular, Helen from
Bay Colony Farm
. She raises angora bunnys and i fell in love with this little bit of roving: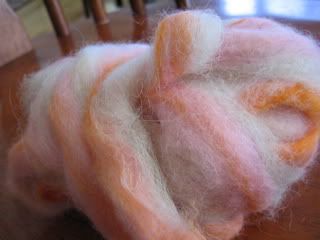 Its angora/iceland wool in sherbety pink and orange; and was the first thing i played with when i got home. (ok, i admit i did pet it for most of the drive back from maine too). Here it is spun up: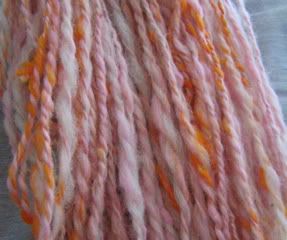 I also installed a Spinner's Choice poly-cord drive band on my wheel. I would highly recommend it to anyone with an older wheel with a cotton drive band. it makes a big difference, much easier for spinning.
On the way up to Portland, we stopped off in Lowell to see Lizzie at
Lush Beads
. what a great selection! I could spend a lot of money in her vintage bead section. but i was fairly restrained.
The biggest news from the weekend came to me on sunday afternoon. We had purchased six raffle tickets at the SPA weekend on saturday, but the drawing was on sunday. They called to tell me that i won THE AFGHAN! the big one, that was made by a bunch of members of the group. its so beautiful! A woman from the group who was still up there and lives in northboro will be bringing it down so it doesn't have to be mailed. here's a picture: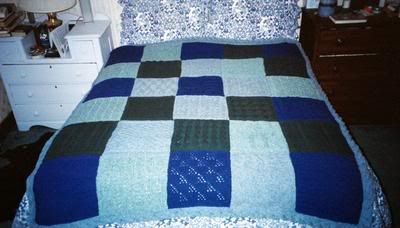 I will be sure to take more once its in my house.