cat toy
my mittens got me in a 'felting frame of mind'. I borrowed some felting needles from Trista and make a little ball of dyed wool with a jingle bell in the middle. I was going to put some catnip in there too, but then i thought a catnip/sheep smell double whammy might be a bit much - like a feline speedball or something.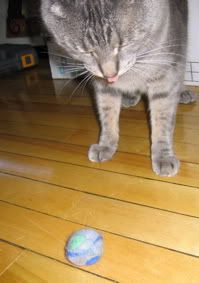 Market testers immediately approved.
I was going to take a nice, natural light picture of it this morning... but it had strangely disappeared. It will probably turn up tonight in bed. or next week in the laundry basket. or never again - lost to the alternate universe of well love cat toys. it was easy enough to make.