sorry honey, you can't shower today.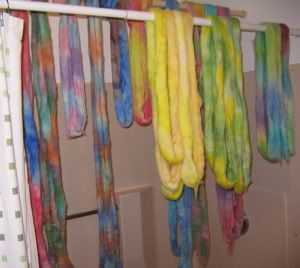 The 2 lbs of roving and skeins of yarn drying there take priority. ha!

In knitting news... there is none. Ribby Cardy is waiting on the final arm decreases and some seams.Pirate sweater stalled out after just the back. I'm also recovering from a horrible case of second sock syndrome.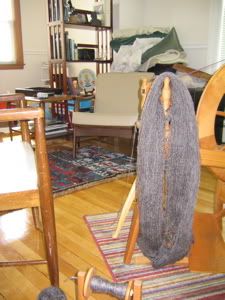 I've been merrily spinning more of the Sydney roving that Theia devoured last week. Since i have a whole pound of fiber, the one smallish skein that i lost wasn't really a huge hit.
sadly, i didn't make it to Circles last friday to see the Yarn Harlot. I'm hoping to go to her western MA stop next week. It looks like people had a really good time. Earlier in the week i called the store to ask if they were taking reservations for the talk by Stephanie Pearl-McPhee and heard a blank confusion on the other line... until i said "stephanie. uh, The Yarn Harlot". "oh, oh! yeah, the yarn harlot". hahahahaha.
i had a REALLY hard time draggin' my ass to work this morning. Why? cause i was pre-drafting these: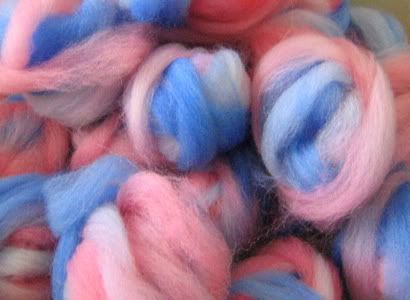 i wanted to start spinning them up right then and there. This roving was meant to be Red/white/blue, but in a serendipitous math error,
Trista
and I made our stock solutions .2% that night instead of 2%. i'm quite happy with the turnout!