mmmm, sheeeeep......
i guess acid dyes don't mask the smell of sheep in my fibers!
This morning i was inspecting all the fibers that i dyed last night and rolling them into little balls. I left them on the couch to go get some coffee... and came back to this: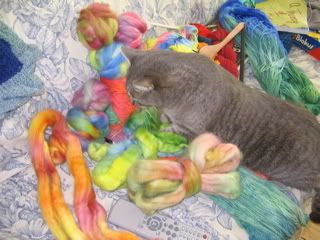 That's Sabine, carefully grooming each ball of fiber! yum, sheep. She prefers the romney, but when i put that away, she went for the colonial next. not the yarn though, i guess that's too processed to smell like sheep.
This
is what my bathroom has turned into. Last night was here at work again, tweaking my dyeing procedures and throubleshooting the mixing and painting process. (the yellow did need to be heated... but it bombs out of solution once it cools down!) And, just for my friend at
Crafty Scientist
, here's the
"Action Shot"
of what my bench looked like last night, mid dyeing.