not much crafting accomplished
First off, I nearly missed my plane on friday morning because i was running around my house trying to gather up a knitting project!! yikes. i finally settled on Rosedale. I completed the first few inches of the body on the flights down to texas, which took me quite a while because i have never knit corrugated ribbing before. It did help me figure out how to do two handed, two color knitting though. maybe someday i'll tackle a whole fairisle sweater.
My return from texas was severely delayed due to leftover weather grossness in new england. In classic "me" style, i managed to lose the pattern and couldn't get any knitting done for the entire return trip! i wasn't feeling bold enough to forge ahead and makeup my own shaping, even though i know i could've. so i read magazines and cursed myself for the 'wasted' knitting time. :(
spinning joy
I didn't have time to post these before leaving, but here are some fun pictures of the obsessive amount of spinning that i did the week before going to texas.
That
long beautiful roving
that i painted? it became these singles: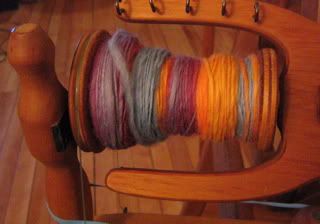 and then was navajo plied (to maintain the really great color progression) into this small little skein of yarn: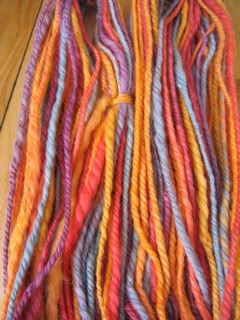 (i should've just left it singles, but its so nice and squishy navajo plied... but 1/3rd the yardage. c'est la vie.)
my favorite roving: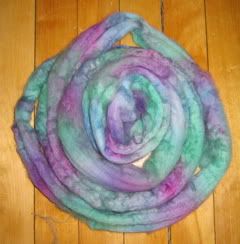 became this awesome skein (single ply):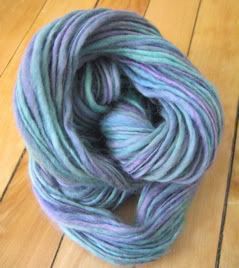 (my camera couldn't seem to capture the really great "monet's garden" blues/greens/purples in this one. its so pretty! shows up a little better in the last picture.)
Mia's Easter Egg painted roving became this little cutie: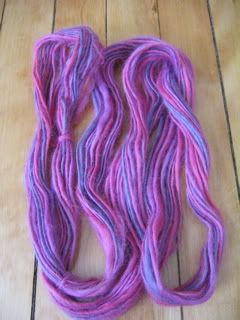 and here's the whole group: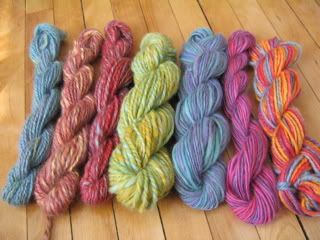 did i mention how obsessed i'm getting with spinning? i love it! i don't even want to knit anything anymore.