Its a Dye party!
Today we had a Fiber/Yarn Dyeing Party at my house. what fun!
We mixed food coloring, cake deco pastes, kool-aid, and easter egg dyes to get interesting colors. Then we painted them onto the yarn or roving with sponge brushes, and set the color on medium heat in the microwave. after cooking it, we spun the water out with the spin cycle in the washing machine (new for me. very useful!) 3 ladies painted natural yarn from kniitPicks, two of us painted processed roving, and one dyed carded wool (although it still had a lot of lanolin so the dye didn't take very well)
Here are some in progress pictures:
Painting begins...
Kate, Melissa, and Kat get artistic....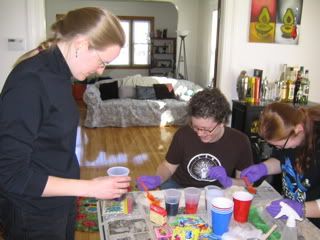 Mia and Trista working on their masterpieces....
Here we all are showing off our finished products
closeups of bits of roving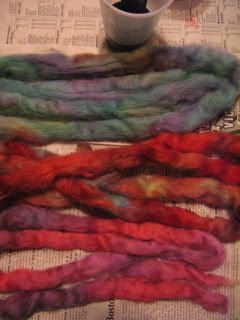 After reading the methods of guest blogger Laurie over at
Yarn Harlot
, i really wanted to make my own big long rainbow roving. I did mine sans-pantyhose though.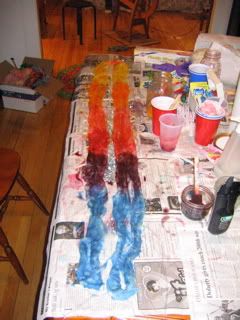 I made some other ones after the ladies left, and they are drying in the bathroom now. pictures tomorrow!