boring progress shots
I love knitting baby clothes. they scoot along so quickly. i really am an "instant gratification" kinda gal. Here's the back of the pirate sweater: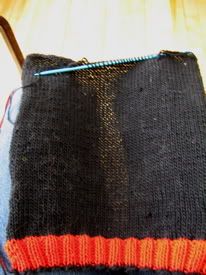 (its black and red. bad digital camera!)
which reminds me of a funny story. I met a guy a few years ago, and before any official dates we were having some of those "get to know you" phone calls. His family owns a sod farm. he took pride in being a caretaker of hundreds of acres of perfectly groomed lawn. that was strange, but in a quirky interesting sort of way that i find charming. But then he told me that his favorite hobbies were keeping large aquarium tanks of coral, and growing rare breeds of orchids. (two things that take years to complete, and require the most extreme patience.) He was planning on throwing a sudden party when the orchid that flowers only once a year did its thing. i couldn't dream up a person more opposite of me if i tried! When he cancelled our next date due to a sudden grass blight emergency, i wasn't too upset about it.
I started blocking my Ribby Cardi Pieces. The cats adore my blocking board for some strange reason. shortly after this picture i had to cover the whole thing with a sheet because Griffin as pulling the pins out and playing with them! ack!