Spring Arts at the Station: a smashing success!!
I had a wonderful time on saturday at the Arts show! here's a picture that was in Sunday's Worcester Telegram & Gazette: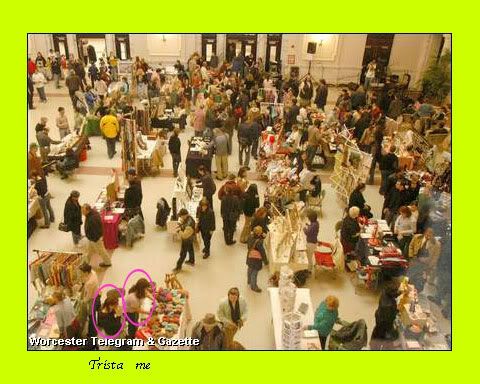 Thanks SO MUCH to my friend Trista who came to help me woman the table. The event was so high energy and busy that i was brain dead and exhausted halfway through it and Trista came and took over the answering of questions, giving people my email address when i ran out of cards and such. she was awesome.
The funniest thing of the day was the mesmerizing effect of the spinning wheel on young children. Originally didn't think there would be room for the wheel... but when we got set up and saw how much space there was between the tables, i sent Darius home to fetch my wheel. People are amazed at how "low tech" spinning is, which i love. For some reason the movement of the spinning wheel is a siren song for children, i would sometimes have 8 of them standing transfixed. i get in that trance too when i'm spinning, but i had no idea the effect it would have on kids.
I also realized why i get myself into things like this - commiting to being in a craft show and then rushing and working under pressure to make stuff. Because without something huge like that, i am unable to prioritize my other thoughts and projects. When i got home and had to opportunity to work on ANY project i wanted, i couldn't decide. i wandered around the house thinking of all the fun crafts i could be working on but unable to decide which one i wanted. Did i work on Ribby Cardi? no. Blue/Green Aran? Rosedale? instead, I cast on the
Pirate Sweater
that i've been planning on making for a friend's baby. There are so many thoughts racing around at top speed through my brain that i just can't seem to focus without some sort of external pressure or deadline. argh!