My Big, Fat, Warping Disaster
(Alternate title: i cannot teach myself everything. lessons in humility)
AGES ago, i found a cheap
table loom
being sold on craigslist. I bought it, brought it home, did some research. I read all of "Warping all by yourself" by Cay Garrett and "Learning to weave" by Deborah Chandler. I happily ordered some 8/2 cotton and used the legs of my dining chairs as a warping board. Diving right in, I sleyed the reed, and the heddles. The project got put on hold for a bit... but last weekend i decided to go ahead and try to finish warping the loom. Unfortunately, after hours of working on it, the results were nothing but disaster: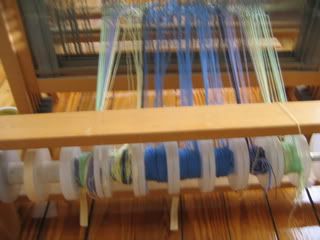 The loom itself looks very similar to a
Leclerc Dorothy
, but there are absolutely no marks on it anywhere. The woman who sold it said that it came from a high school, and i believe that it was probably home made by someone for that school. The physical problem that i'm having is with the weird sectional warping reels (or something - white things) on the back of the loom. They don't spin freely around the back beam, but because there is no tie on rod, the knots aren't securely attached to the white plastic and they spin around as i wind on and then i get uneven winding. when i tried to tighten from the front, they slip in the back. i can't get the whole thing under even tension. i am probably not making sense, because i don't know enough of the terminology to explain the problem. ugh.
the mental problem is that (as usual) i'm trying to teach myself a craft in a void, with only books and the internet as teacher. This usually works for me, but not this time. I would love to take a class, but can't afford it. I don't know what i'm doing and i don't have any friends who are weavers who can show me what i'm doing wrong. I've wanted a "real loom" since using the Inkle Loom in the art studio in 5th grade! i was so excited about this loom, and now i'm just flustered and frustrated. what should i do?