spring is anti-crafting.
I (finally!!) mailed off the socks that i made for my mother out of
Socks that Rock
purchased at Rhinebeck. I cannot say enough good things about this yarn. There is only one place to buy it online that i know of, but i think they travel to all the major sheep&wool shows. If you are a fan of sock yarn, i highly suggest picking up some of this. anyway, the socks have been done since before christmas, but i just needed to sew in the few ends and get them in the stinkin' mailbox. Of course, i forgot to take a picture before i sent them!
sudden spring in new england has made the idea of wool in my lap... uninspiring. i really want to get projects finished, but have been distracted by other things. scooting. bikram yoga. my newest little project: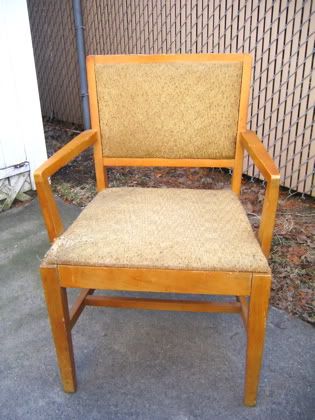 I adore danish modern / mid-century modern furniture. i pick up these lonely little chairs that need some TLC at flea markets (this is the 3rd one to come home with me). I have every intention of re-upholstering or refinishing them, but somehow it hasn't happened. as with most of my projects, i get paralyzed by the idea that i'm "not doing it right". well i'm just going for it now, and decided to treat myself to some
powertools
to make the job easier. it was called the "corner cat"! i couldn't resist. The chair has now lost its padding and about 80% of its old varnish. i'm having so much fun that "Powertools are cheaper than therapy" might just be my new motto.
now, which fabric? top 3 choices right now are:
Felix Punch
,
Lux Funky
, or
alfie barkcloth
i have "misplaced" the charger for the battery of my digital camera. ugh. once i find it, i will post an update on the chair.
On saturday i went to a "Spin-in" at the American Textiles History Museum in Lowell. Even thought i didn't find the people i was supposed to be meeting/looking for, i met all kinds of cool spinning people! I have never spun in the group before. i walked through the spinning room at SPA weekend but didn't have my wheel with me. This was really fun, inspiring, and educational! almost everyone there was cranking along on a double-treadle ashford Joy, and made me realize that my Traditional needs a few upgrades!! I also met
Caroline
, who was SO nice and taught me how to properly use my hand carders! she also tried to teach me to spin lace weight yarn on her Majacraft, but that was a disaster. i need to find a spinning group closer to home.