good Whoa and bad Whoa
i haven't read anyone's blogs in almost a week. i just couldn't handle all the talk of MDS$W. so in my usual state of denial, i just stopped reading all together. Now i'm finally getting around to catching up on all the fun that everyone had. and the shopping! *drool* Trista, Kat and I went to Rhinebeck last fall and had a blast. I wasn't a 'real' spinner yet then so i didn't buy any fleece, but i definitely will next time around. And by 'next time' i mean THIS SUNDAY when i head up to the New Hampshire S&W fest! yay! i know its not as big as MD or rhinebeck, but i know i'm going to have a good time anyway. (And hopefully get out of there without spending the rent and grocery money!)
Good Whoa: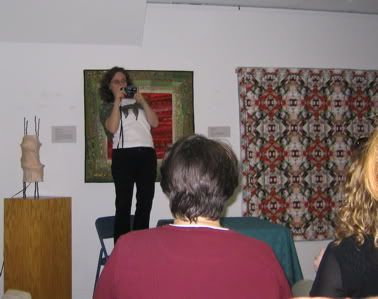 The Yarn Harlot was wonderful! She had me laughing so hard at one point that i really thought i was going to fall out of my seat. Ask her about the places she hides her stash. i dare you. I hope that i didn't insult her when i told her that
Big-Orange
likened her bookbookbook to "topical humor - like Red-Neck Jokes". (don't worry, he later recanted).
I will also say that despite claims of terror with talking in public, she seemed so calm and collected... and natural. it was great. It is always strange to hear an author read their writing. It changes the whole experience for me because as i read i can hear their voice in my head instead of my own. From now on i will read stephanies blog in her voice, with her tone and mannerisms, and pronounce things the canadian way. (beyond just 'eh?', and 'aboot'... i will now hear it as 'PROE-ject' and the knitting 'PROE-cess')
I wasn't able to go out for drinks with all the cool people afterwards, because i wasn't feeling well and needed to get home to worcester at a reasonable time. i briefly got to chat with Mamacate, and many other super-cool people (whose names i've already forgotten)! I also ate some honkin' slices of antonio's pizza. my addiction is (temporarily) sated.
Bad Whoa:
When i was younger i was the only one in my family that had no problems at all with carsickness. I always read or crafted during car trips while my brother would be green and puking at the mere sight of a book in the car. Lately, whenever i knit in the car i start to feel gross. when i stop knitting it'll go away. Its been going on for a while now and I've been stubbornly avoiding the conclusion that i know get car sick. I want to think its something i ate at a rest stop, but its not. i'm just chalking it up to one of those "oh, a lot of women develop that in their mid-20's" things - like my sudden hay fever and IBS. I am soooo depressed about this development. I only hope that it won't happen on the subway or bus because i was looking forward to some quality knitting time during my commute when i move to boston and start going to grad school in the fall!