experimentalism
Yarn Harlot:
I plan on going to see her at the Amherst
Fiber Art Center
tomorrow night. I don't know details of when i'll be leaving worcester yet... but i am looking forward to seeing
Mamacate
,
Helen
, and any other bloggy-friends who might be going as well. I also plan on eating at LEAST 2, maybe more, pieces of Antonio's Pizza. yum.
silly yarn: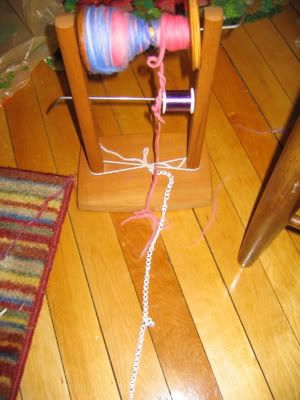 As i was spinning up the pink/blue wool this weekend, i remembered that i had some of those plastic letter beads sitting around in my bead stash not getting used (the holes go side-to-side, but i really wanted some letters with holes that go up-down). I thought "baby colors, baby beads... yeah, that could work!"
I strung all the beads onto some purple metallic thread i have, and plied the wool singles with the purple thread; dropping a bead into the mix every 4 - 10 inches.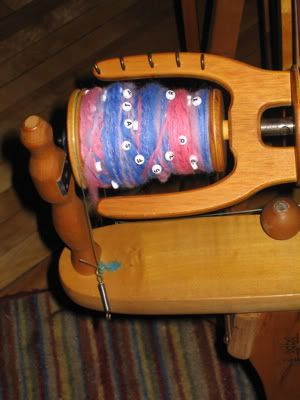 The end product is so cute, but this could never actually be used for a baby garment since the thread could be easily broken/chewed and beads swallowed. not good. Now i have this cool skein of yarn and am trying to think of things that it could be used for. a felted diaper bag? (or part of it at leat - there's only one skein). any other ideas?