drive by blogging
some quick thoughts:
- Saturday i learned how to make felted beads at
Sarah's
house. how fun! i'm going to try making some cat toys this way because the needle felted ones weren't sturdy enough. Her kitty Max shredded his in approximately 2.5 seconds, and Griffin seems to have shredded his over the weekend as well.
- I spent 12 hours in the car on sunday driving from MA to philadelphia and back! insanity. While i didn't get loads and loads of knitting accomplished, i did re-start the Pirate Sweater. I finished one sleeve without getting car sick, and I have new energy for finishing languishing projects!
- More reason to love being a scientist/crafter: Angora Bunny Genetics! even thought i'm way out of practice with genetics, i'm fascinated by the discusions of bunny coat and eye color at the
BareHare
!
- Saturday morning i brought this home: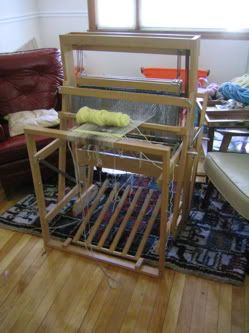 yes, its a(nother) loom. This one is a 4-harness, 6 treadle Harrisville Designs floor loom. Yes, i know i have a table loom that is not being used. (which i am now selling if anyone wants it!) Yes, i know i don't have any time for another craft, let alone weaving. Yes, i know i am a crackhead. The woman (a chemist!) needed to get rid of it and was selling it for such a ridiculously low price that i just could not let this one pass. I AM going to get to use it one of these days. i swear.