screamin' greenie
I finished spinning the yarn that i made for Trista.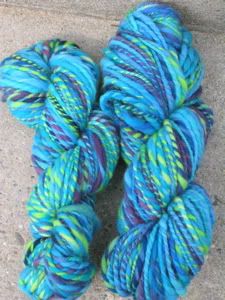 She had some
Noro Kabuto
that she can't wear because of wool/alpaca allergies. She was going to make a catbed out of it, but i screamed "blasphemy" (wool, alpaca, silk, cashmere blend!!!). So she offered to trade me something from my stash, but i've got nothing trade-able in the stash (that she wouldn't also be allergic to). So i spun her a custom yarn from merino roving that i dyed. I used 6 oz of this blue/purple/teal blend and 2 oz of some really REALLY loud green/blue/yellow. The little bit of eye-bleeding green was just enough to lighten the whole thing and bring out the teals and purples i think. I forgot to add up the yardage, but it should be enough for a super yummy catbed. Now what should I do with my lovely kabuto??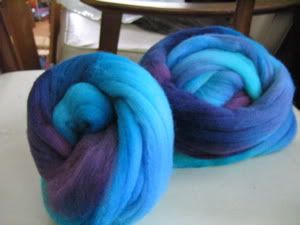 This weekend i am being gifted 3 raw fleeces!! or is it "3 fleece"? whats the correct plural here? Anyway, I was contacted by a local woman who has 3 sheep on her property that are getting a late season shearing this weekend. She said they are "old-world merino". She usually donates their fleece to
Old Sturbridge Village
, but they don't want to take them this year because of the late shearing, and she doesn't have a need for the fleece. So she's giving them away for free. wow! I will probably have them sent away for processing because i don't have a drum carder and merino is known for being extra-greasy. I have no idea how clean or healthy the fleece is until i get it. My guess is that these guys are "living lawnmowers" on her property, so they are probably uncovered throughout the year and will be pretty dirty. i'm still "wicked excited" though!