more fun with trading
as my time at work winds down (TEN DAYS!) i'm ramping up so many other creative activities. I'm looking forward to some free time in july to do nothing but craft all day long. awwww yeah! It won't be nearly enough free time, though, as i'll also need to pack the house for the move to waltham. then some travel, and unpacking, then school starts. eep. Hopefully i'll even break out the stained glass equipment for a bit. I like to give stained glass as wedding presents, and i've got 7 weddings to attend this summer!!
Some more exciting trades in the works:
I've mailed off some fun roving to Christina from
Fernhouse Studio
- in exchange for some of her beautiful notecards. Check out her
panda puppet
... how cute is that?!
I've continued shooting rolls of black & white film for many months now, even though i haven't had access to the darkroom at the craft center since my class ended. I probably have 20 rolls in a drawer in my dining room waiting to be developed, including those from my trips to bermuda and europe. Now i've met a knitter with a darkroom! Sarah's mother
Lora
offered to trade yarn for the use of her darkroom - and was even sweet enough to hold my hand and walk me through developing film again! I haven't printed from them yet, but the first 3 rolls that i developed last week came out ok. (as in, they weren't blank or black!) I'm so excited about printing the pictures and developing more in the next few weeks.
In lieu of fiber pictures, here's one of my favorites that i took last summer: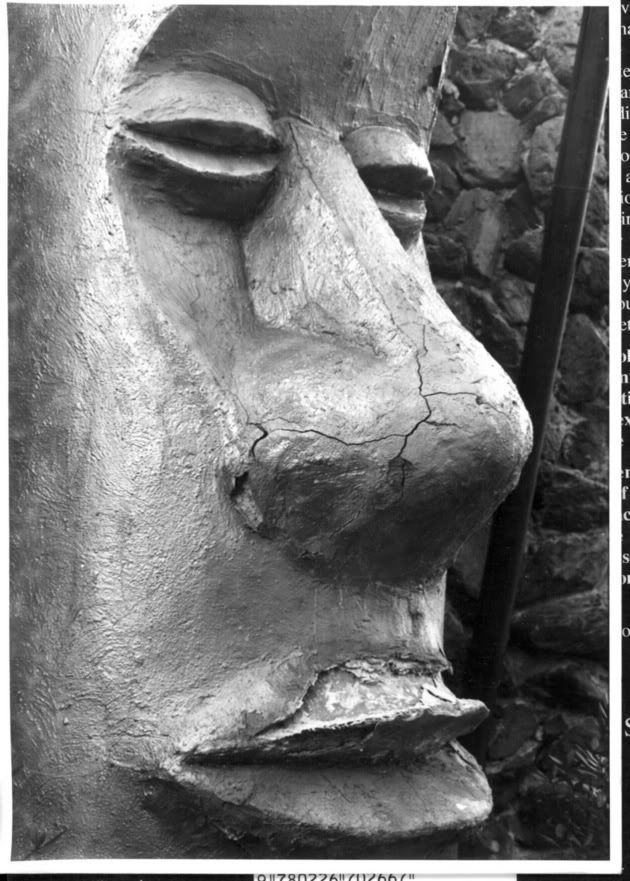 Its the crumbling face of a golden tiki idol that stands front of a closed polynesian restaurant.