holiday presents!
a friend recently asked me to make her a "long, skinny scarf in neutral colors". sure thing, shopping excuse! It was fun to buy one skein each of a few different yarns i've been wanting to play with. normally i wouldn't allow myself to do that.
Well, i made her scarf. I crocheted it in stripes the long way. I think she'll like it. but it used less than half of each skein. So i made a zig-zag scarf with the rest of the yarn (also crocheted). Then i was on a roll, so i started crocheting more scarves as holiday presents. The two brightly colored ones here are made from my handspun yarn. I don't normally crochet. i only know very basic stitches and i just make up the rest as i go along. scarves i can handle.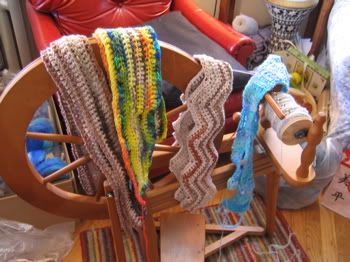 I am terrible at keeping presents secret. so if you are a friend of mine and you receive one of these scarves for christmas, act surprised. pretend you didn't see it her first, ok?