Fiend gets Fix at Fiber Twist
i didn't go to Rhinebeck... but i'm feeling better now. I got my fix at the Franklin County Fiber Twist, which proved to be an excellent event in its first year!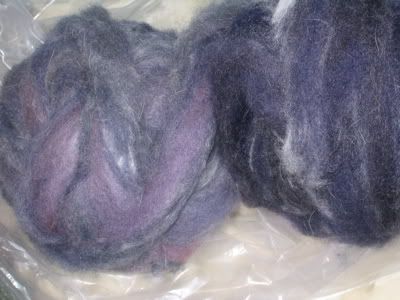 It was so fun to see all my fiber friends again. I always love fondling Helen's lovely bunny rovings from Bay Colony Farm. I just HAD to come home with 2 balls of wool/angora blend. mmmmmmmm, bunnnnyyyyy.
The next purchase that jumped into my arms was some beautiful wool from
Sojourner Sheep
.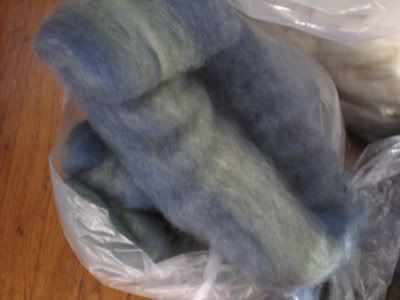 She had so many lovely color combinations that i had a hard time deciding. I got a blue/green mix that was grown by a sheep named Lydia. I love knowing the name of the sheep where my wool came from!
One feature that makes the new Fiber Twist different from other festivals is the open farm you can visit. I wish i had more, but the day was getting late and i only had time to visit one farm. I really wanted to see
Winterberry Farm
, where i purchase the orange and gold fleece for Darius'
Big O(range) Sweater
. I am just SO pleased with how the yarn is turning out from that fleece.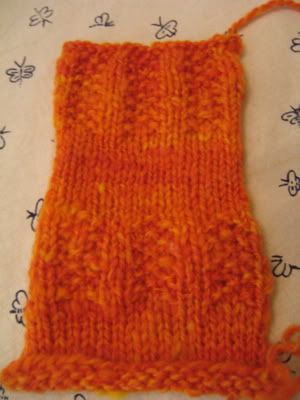 It knits up really soft and squishy and exactly what i wanted it to be. Sadly, Mabel was out to pasture so i couldn't show her the swatch i knit from her wool!
I just couldn't leave Winterberry without some more fleece. This time it was a bag of washed and dyed Cormo in dark green tones. This stuff is the softest soft that ever softed. like, totally, fer real. no way. way!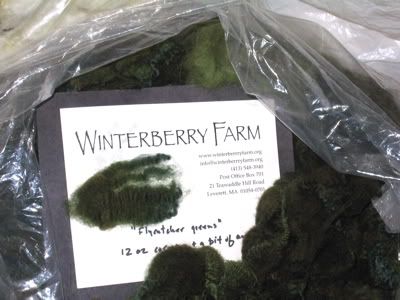 clearly its too late and grad school has started to melt my brain cells. i'm going to sleep now!