real, actual knitting!
hey look, i still know how to knit. two-color even! I was too lazy to wind off little bobbins for intarsia, so i'm doing the whole pattern stranded. Its been quite a while since i did any stranded 2 color knitting, so its coming out pretty puckery. I think it will flatten out in the blocking. (i hope!) Pirate Sweater is on the home stretch!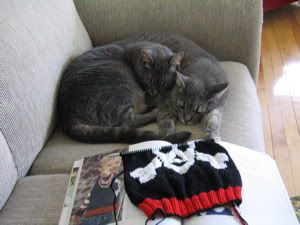 As you can see, the Lumps and I are having a super lazy morning... I am trying to relax until at least noon before worrying about all the things i should be doing. so far so good!