T minus 2 days
yup. two more "work" days. Of course the last few days are cleaning up my lab notebooks, making sure that the people in the lab know where all my stocks and files are.... housekeeping. terribly boring.
I have actually been knitting. But i don't want to take pictures of it until the items are finished... so that's not very exciting. There's a nearly complete sock. Kat ordered the zippers for our Ribby Cardi's. That means i need to get off my arse and finish the knitting. i literally have 2 more inches of the second sleeve. what is my hang up?!?!
Look at this cutie!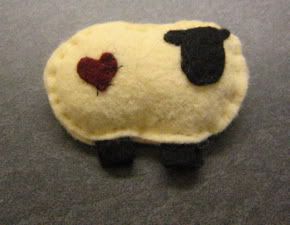 Its a little sheep pin in felt made my Trish Miller of "Heartfelt Designs". It might be Toby, Ivan, or Puff - the 3 sheep whose fleece are now in my living room. (Thank god the weather finally cooled down a bit here - that raw fleece smell was starting to take over the room!)
Last night i showed
Sarah
(a.k.a. "Sarah-beads") and Linda how to do Bovine Protein Liquid Chromatography. We had lots of fun. I tried to recreate the Peacock roving that i used for
Trista's
yarn. (it came out pretty close.) I also dyed some in bright rainbow colors. i'm a total sucker for anything in rainbows.