sshh!! we're hunting wabbits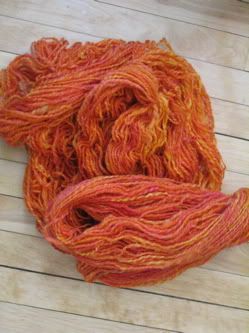 It turns out that carding fiber is the PERFECT activity for me to do at SnB! i can go on autopilot and chat away without messing up any stitch patterns. I got loads of it carded on monday night. see that? its three more skeins towards The Orange Sweater! Pictures here on the floor in a big 'ol jumbly mess. i have to leave them that way until i've washed and set the twist, otherwise i forget that they aren't finished and they get mixed up with my other yarns. its a system, of sorts.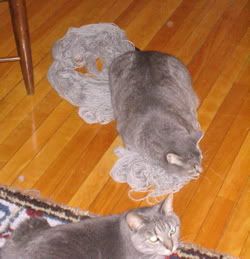 Sometimes the Inspectors take a particular liking to one skein or another as its waiting to be washed. I got bored with Orange, so i started spinning up some Romney / Angora blend that i purchased a few weeks ago from
Spinning-A-Dream
. Let me tell you, this stuff really IS dreamy! The blend is yummy soft and a very well prepared roving. Sabine decided it was hers to nap on. (You know she thought she was sneaky and hiding here!)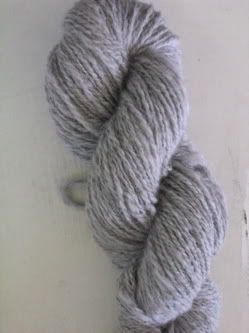 Here's where the ADD kicks in. Now i've got 480 yards of this dreamy yarn (light worsted weight) and i can't imagine what i might knit with it. No, i can imagine HUNDREDS of things i could knit with it, but just can't decide. my mind jumps from possibility to possibility and nothing is able to jump out as "the perfect project". I love the natural gray color, but i could also overdye it... but it matches the Kabuto i got from Trista... I could make myself a pretty angora scarf and hat set.. but i've been saying i was going to make a nice manly scarf for my brother in poland... i've got more fiber, i could keep going and spin enough for a bigger project...
For now i'll just fondle it, hide it from the felines, and let it marinate in the brain and the stash