inspired to spin
I haven't started spinning anything that i got from Fiber Twist yet... but the purchases did inspire me to work on some other fiber in my stash. Pondering what to make with my yummy
purple & gray wool/angora
from Bay Colony Farm, i remembered the beacoup de natural colored wool/angora i've still got from my
Spinning-a-dream
purchase last year. I think it will go very well with the purple and gray from the Fiber Twist.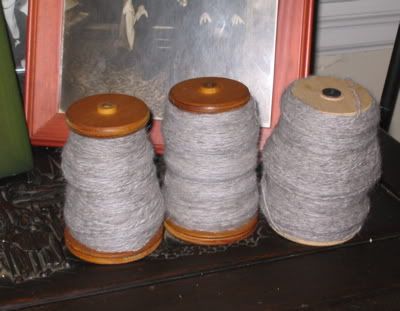 I spun up these 3 bobbins, which came out to about 1,000 yards of finished yarn. I'm seeing it as an airy
ballet wrap top
. They are so cute and popular right now but i just can't look at them without thinking of Ms. Polkinen, my ballet teacher from way back at Pacific Northwest Ballet. maybe i'll think of something else. something pretty to make out of really soft angora / romney blend... ideas?