sea of orange
Thanksgiving holidays (and lots of riding in a car) has given me lots of time to work on the Big Orange sweater. Here's the first big ape arm lounging on the couch.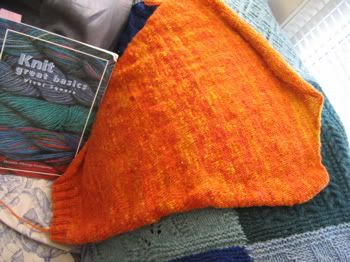 As you can see, i'm using my favorite "plain sweater" pattern book: Knit Great Basics by Vicki Square. (i think this is the 5th sweater that i've made from this book.) Its a really wonderful book. How many times have you bought your yarn because it was on super-sale but then searched through every knitting book in your library trying to find a suitable pattern for the yarn? Or you might be thinking "geez, i just want a sweater. a simple sweater that my husband will actually wear". This book is especially great for making men's sweaters. It consists of templates for making very simple (no waist shaping) sweaters where you choose pull-over or cardigan; drop shoulder or set-in sleeve; and v-neck / round neck. You pick the finished size you want, the gauge of the yarn you are using and its got the numbers already worked out for you. its awesome. Many people are put off by the strange short hand drawings, but once you figure out how it works its so quick and easy. I recently did the math and figured out that one page of drawings contains the possibility for SIXTY-FOUR different sweaters!! and of course you can add any stitch pattern you want on top of that. It also contains templates for simple hats, socks, and mittens.
ok, enough babbling. here's a close-up of the yarn: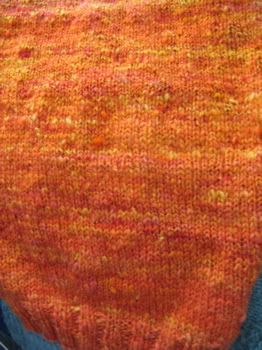 i'm really very pleased with how luscious the yarn is knitting up! Some year, when i actually finish this, it will be a great sweater. ha!