FO: Rosedale
Its finally complete!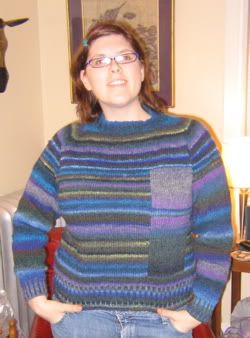 I think this sweater is a serious improvement on the previous use of this yarn.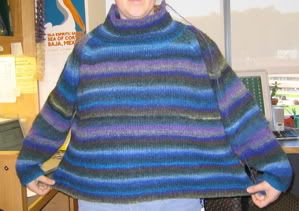 I've worn it (completely unblocked) two days in a row now. Totally loving it, its so warm and cozy. I wish i had knit it 1 or 2 inches longer. (I always forget how much the boob-ular area takes up the length of sweaters. grrr.) I'm also not loving the neck. I already ripped the collar out and reknit it once. I'm wearing it to see if it will still annoy me. i might rip it again and try it as a turtleneck.
What i learned from this sweater: how to knit corrugated ribbing.
I wasn't sure i'd like this, but i really wanted to try it. I love the end product. i think its a really nice detail and it makes the cuffs extra warm. (a nice bonus, since apparently Brandeis doesn't believe in heating the buildings in the winter! brrrrr!)