adventures in dyeland
There's not a lot going on in my craft realm right now. Well not alot that i can show pictures of. The B Orange sweater is still nearing completion, but progress has slowed while i spin the last skein of yarn for it. I did do a bit of dyeing over the holidays, though.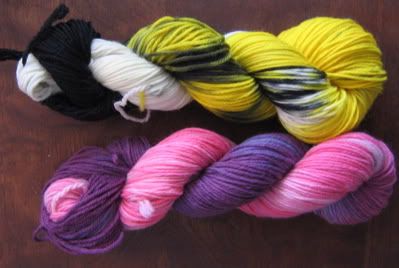 Here are two skeins of superwash merino that i custom dyed for my friend Kelly. She requested one skein of bright pink and purple. no problemo. The second she wanted the colors of the Pittsburgh Steelers so she could make a pair of socks for her brother. I tried really hard to keep the white part clean and not let the black bleed and turn it gray. mostly success! The black dripped a bit, but it stayed distinct and no gray mess. i hope she'll send a picture of the knit socks when they're done.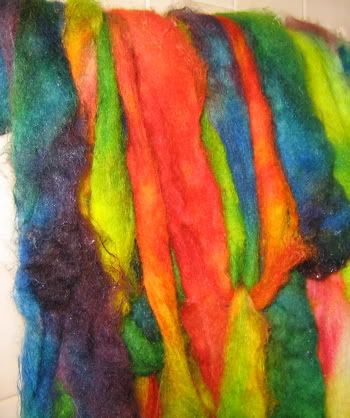 The next is my specialite du la maison: rainbow roving. Some people like random dyeing in the dyepot, but i really like to keep distinct colors and control the mixing/blending. I like to keep options open for different ways of spinning the colors; keep them distinct by single or navajo plying, mix them lots,
mix them a little
. Its a birthday present for a friend. i'm fairly sure she'll love it.