finished spinning
My 8 oz of beautiful roving from Sojourner Sheep has been spun, washed, and set. Its now 450 yards of bulky goodness: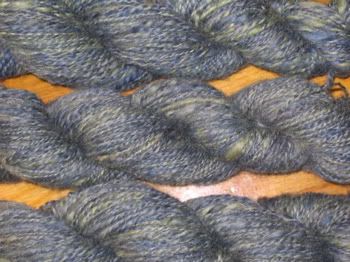 I swatched and its exactly the right gauge to make myself a
Mounmouth Cap
, which i've been wanting to do for a while.
But first, i need to make a baby sweater. A friend from college is due to have her baby any week now. The baby quilt that i started for her FIRST daughter (born 2 years ago!) is not going to be done in time for this one either. c'est la vie. I'm currently making a sinfully easy boatneck baby sweater in lavender cotton. pictures later.