the best excuse for dye experiments
Sarah asked me to work with her on an art project for a possible
upcoming art show
. My mission? To dye small amounts of roving to the colors of
van Gogh's "The Starry Night"
so she can recreate it by wet and needle felting. how cool is that going to be, eh?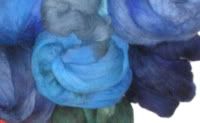 Well this is exactly the kind of thing that i LOVE to do. My favorite part of working with dyes is mixing, tinkering, tweaking the colors until they are just so. Of course i love it, i get to be a bit methodical and scientific AND play with color and wool at the same time. This is what I consider a 'a really fun friday night'. ha!
Sarah's kitten Bella thinks they're perfect. for a nap!