FO: baby sweater and mom socks
holy wow, batman. i have not one, but TWO finished objects today!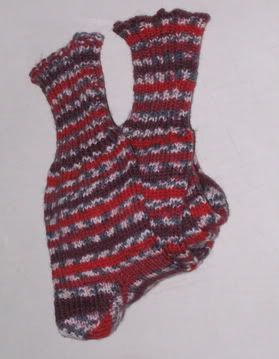 First up is a pair of socks that have been languishing for ages. I started them as airplane knitting when i went to a conference in November, 2004. They've been 99.99% complete for over six months now... just waiting for me to bind off the second sock! I love knitting socks from the toe up, but no matter how loosely i try, i have a big problem getting a stretchy bind off. i found one in some knitting book (or maybe online) and used it for the first sock. it's awesome. Then i lost those directions and couldn't find them again for the second. *sigh* Well i found a good stretchy ribbed bind-off in the Twisted Sisters Sock Workbook and finally finished them. Just in time to give them to my mom when she visits in a few weeks! (i usually knit her one or two pairs every year.)
They are strategically rolled up so you won't see how uneven and mismatched the pair is. That's what happens when you take 1.5 years to knit a pair of socks and don't keep any record of how many stitches you're working with. bah. i'm just not that much of a perfectionist, and neither is my mother. She's been wearing and loving all my 'art projects' since i was a child. She still wears mismatched pairs of earrings that i made in high school when i was into making beaded earrings. I would make one really complicated stitch pattern for one earring, but after figuring out how to do it, i'd be bored and never make the mate. So i just made bunches of these very complex single earrings, and my mother wears them with whichever one she feels like. (how did no one considered that i had ADD??)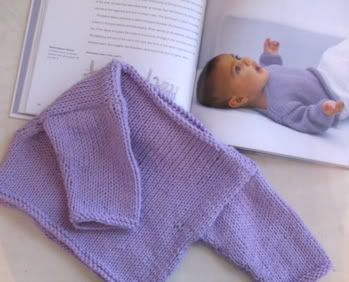 The World's Easiest Baby Sweater! So ridiculously simple, i'm almost ashamed to have used a pattern. But i don't have any kids in my life, so i have no idea what a good size for a newborn is. And having someone else do the math for you is just so damn easy. It took me only two nights of television watching!
Specs:
Boat Neck Baby Sweater from
Baby Knits for Beginners
by Debbie Bliss.
Yarn: 2.5 balls Spotlight by Classic Elite. color 5756. (discontinued, but i have a small stash from a sweater that i planned but never made.)