the Olympic Pilot Light is on
Ok, i'm willing to admit that i may have taken the "challenge" part a bit too far when i chose
St. Moritz
as my Olympic knitting project. My "it doesn't look that bad" attitude is fading now that i have the delicate yarn and tiny needles in my hot little hands. Yeah, i've knit in two colors before; a Lopi sweater many years ago... clearly i didn't quite appreciated the difference between 3 stitches/inch on #10 needles and 6 stitches/inch on #3 needles. *gulp*.
But i'm ready for the challenge. I'm actually excited. I need the kick in the ass. I always
enjoy the process
. So much so that i rarely finish projects. I get bored and have more fun thumbing through old knitting patterns or planning another project and don't have the drive to finish things. I'm also not a competitive person. I don't think i'm going to get stressed out if i am unable to finish the sweater, but i really want to try!
My two-pronged training regimen:
1) Get the fingers flying by jump-starting an old challenging UFO. Enter my
Beaverslide Dry Goods Blue/Green Aran
. Even though the front and back are completely done, i pushed it to the bottom of the knitting basket 2 years ago and never even cast on the sleeves. So i did just that over the weekend. Hot damn, i love this yarn! I don't know what my hangup was. As soon as i started the sleeve, i fell back in love with the sweater. Sleeve in progress: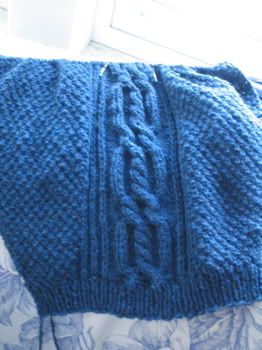 2) Like a good little academic academic, i'm doing background research. I went back and read every word that Wendy wrote about
her St. Moritz
. I'm scanning archives of those who've completed it, and eagerly following the near completion over at
Fuzzy Noodle
. Big thanks to Marcy-Blogless and
Cath
, who gave me a couple of really good tips last sunday at while we were at Claudia's. I'm also re-reading the many cool tutorials about two-color knitting and steeking that are available on the web. Here are a few:
Fair Isle 101
. great pictures and descriptions!
Two Color Knitting
from the Socknitters group.
Knitty article on steeking
written by
Wendy
.
i welcome any other suggestions or ideas for required reading!