such a dweeb
I went to a fiber festival 3 days before june... and bought mittens.
yes, mittens. i'm a total dweeb.
I totally blew my fair-budget on them too. But they are the most awesomely gorgeous mittens i've ever seen and i HAD to have them. They were wet and needle felted by Leslie Samson, who is teaching felting workshops at
Bay Colony Farm
. The colors are purple/blue/green/yellow and totally match my glasses which are purple outside, blue middle, greenish inside! i am now completely obsessed with wet felting. MUST learn to make awesome mittens - stat. Helen said she may come back to teach a mitten/hat class sometime this fall or winter. YAY!
I was so in love with my mittens that I turned on the a/c in the car so that i could WEAR my mittens home. GIANT dweeb.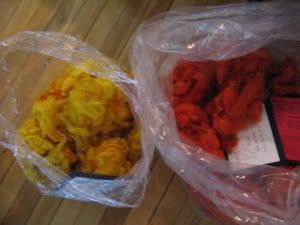 I also bought 1 lb each of Orange and Golden yellow dyed fleece from
Winterberry Farm
. It was grown by a merino x sheep named Mabel and will become a sweater for Big Orange. (i guess that's pretty obvious). Saturday night, in front of the TV, Mia helped me hand card the colors into rolags and i spun up an entire bobbin. I'm going to dye up some other fleece in reds and browns and card them all up in different ratios to get a noro-ey look. (hopefully). a drum carder would make this loads easier. just what i need to lust after... another expensive gadget. *le sigh*.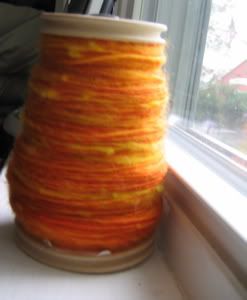 As we stashed the orange fleece in the trunk of the car and head back to the vendors for more oogling, i spotted a gaggle of people that i recognized as Knit Bloggers. "psst... Darius... that's
Claudia
!" i whispered. "should i go talk to her? she doesn't know me." i'm such a BIG HUGE DWEEB. She was nice, didn't point and laugh at me, and introduced me to
Rosemary
and their other friends (names forgotten. eep!)
I took tons of pictures of sheeps and the sheepdog trials, but on real ACTUAL 35 mm film instead of digital. I finished my springy shawllette/capelet in time to wear to cummington... so of course the weather cleared up! No need for a wool cover up that day. TADA! here it is:
egads the fashion police need to come over and throw out ALL my pale pink shirts! i'm so pale - they make me look dead. or naked. or both!